Latest Issue
Sent to our members
NEXT EVENT
DRAUGHT TESTS
Beginners and
Levels 1 to 4
25 February 2017
&
26 February 2017
East Hamsworthy Farm
Pancrasweek, Holsworthy
Devon, EX22 7JN
Test Schedule and Entry forms available here and on our calendar page.
Everyone welcome
NOTICE: DRAUGHT TESTS
LOADS FOR HAUL SECTION
Entrants to Draught Tests will now be responsible for supplying their own weights for the haul section of the tests:
Level 1 - 5 kg
Level 2 - 10 kg
Level 3 - 15 kg
Level 4 - 20 kg
We recommend water containers are used as 1 litre of water = 1 kg in weight. Therefore a filled 5 litre water container = 5 kg weight, and so on.
Effective from January 2016
Working Pictures
Click on the pictures to visit the gallery
ATTENTION JUDGES &
OPEN SHOW SECRETARIES !
Show Secretaries, are you scheduling separate classes for Newfoundlands?
Judges, have you accepted appointments to judge Newfoundland classes at an Open Show?
Get a free listing in our Open Show Calendar
The Southern Newfoundland Club is keen to promote the scheduling of classes for Newfoundlands at KC licensed Open Shows and actively encourage our members to support such shows. We invite Secretaries of canine clubs and Judges who have accepted appointments to judge Newfoundlands to contact our show list co-ordinator Jackie Bagnall by email with details and we will include the information on our Open Show Calendar page, free of charge.
The SNC is committed to the development of judges for Newfoundlands, both specialist and non-specialist and we maintain a list of judges which can be downloaded here (updated July 2016).
In some cases the SNC are willing to provide sponsorship, on application. Again, please contact Jackie Bagnall for details.
Click to view the Open Show Calendar
Welcome to the SNC web site
The Southern Newfoundland Club (SNC) was formed in 2008 and is registered with the Kennel Club and recognised as a UK Breed Club.
The club aims to promote, protect and preserve the Newfoundland dog breed by the involvement of the Club and our growing membership in Working, Showing and Welfare activities.
We are particularly keen on encouraging participation and involvement by our junior members so we feature prominently their results and achievements on this site. New pictures, announcements and other features are added regularly ... so please visit often!
Our content is produced largely from the photographs and information provided by our members so please send in your pictures, comments and suggestions to:
web@southernnewfoundlandclub.co.uk
NINTH ANNUAL GENERAL MEETING

Preliminary Notice
of the
Southern Newfoundland Club
ANNUAL GENERAL MEETING
to be held on
Saturday 18th March 2017 at 12 noon
Stockcross Village Hall
Church Road
Stockcross
Newbury
Berks, RG20 8LN

Items for Inclusion on the Agenda and Proposals for the AGM Agenda must be made in writing by fully paid-up members of The Southern Newfoundland Club and sent to:
Hon. Secretary
Mrs. R. Hutchinson
1, Langham Way
Ely
Cambs, CB6 1DZ
to arrive no later than Friday 10th February 2017 (Post Office Postmark).
Nomination forms and questionnaires for anyone who would like to put their name forward for Committee are available from the Hon. Secretary.
All members are invited to attend - refreshments provided
2017 CALENDAR NOW AVAILABLE
£8.00 plus £2.50 UK P&P
ALL PROCEEDS TO WELFARE FUND
You can now order your 2017 SNC Newfs calendar online using PayPal. You can use PayPal even if you don't have a PayPal account.
Please note that we have had to add a small surcharge on PayPal orders to cover PayPal's charges to us.
Proceeds go to SNC Welfare funds
THE SNC's WELFARE WORK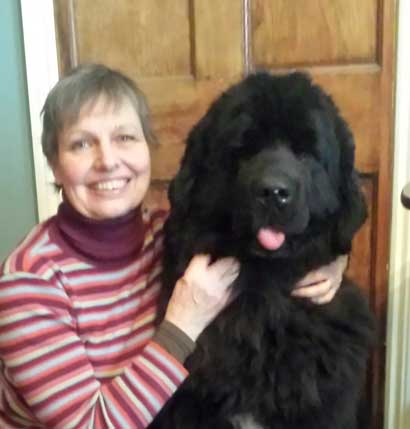 Please contact the SNC's Welfare and re-homing coordinator, Patricia Franklin, if you need help. Her phone numbers are 01404 42718 or 07917 785940. More details of the SNC's welfare work can be found on our welfare page.
A big "Thank You" to everyone who has re-homed a Newfoundland, or helped with fostering, home checking and transportation - it is greatly appreciated.
Donations to SNC Welfare and Rescue gratefully received

BETTER BREEDERS SCHEME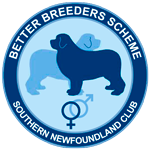 NOW ONLINE
The new web site is intended to draw potential Newfoundland puppy purchasers away from the online adverts of puppy farmers and unscrupulous breeders and put them in touch with breeders who hold to the highest standards in planning, rearing and selling Newfoundland puppies.
To be successful we need all reputable breeders who are prepared to subscribe to the high standards of the scheme to join and include their litters, even if the puppies from that litter may already be spoken for ... it provides purchasers with the opportunity to contact the breeders they should be talking to!
The scheme is open to applications from members of ANY of the three UK Breed Clubs, not just to SNC members.
The scheme is operated by the Southern Newfoundland Club and administered by Kirsteen Farrar who is happy to talk with any breeders who are interested in joining the scheme. If you prefer you can contact Kirsteen by email address at administrator@newfoundlandpuppies.co.uk.
Visit: NEWFOUNDLANDPUPPIES.CO.UK
WORKING TEST RESULTS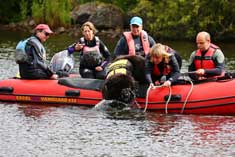 New Members Welcome
New Annual Membership
Full Joint .................... £23.00
Full Single .................. £18.00
Junior (under 18) ......... £5.00
Download a New Membership Application form


Please note that payments via PayPal include an extra £1.00 to cover the fees they charge to us.
Overseas members also welcome
Existing Members Renewal
Annual Membership
Renewal for 2017
DUE BY 31 DECEMBER 2016
Download a
Membership Renewal form
to send with a payment by cheque
or

Please note that payments via PayPal include an extra £1.00 to cover the fees they charge to us.
Existing members, please ensure that the
Membership Secretaries
have your up-to-date postal and email addresses
Overseas members also welcome
Fun Pictures
Click on the pictures to visit the gallery
BEHAVIOUR HELPLINE
Following the 2012 Seminar on Temperament, a new FREE service was launched for our members.

Kristina Glover, a highly qualified and experienced animal behaviourist, provides confidential professional advice by telephone and the cost of her consultancy is paid for by the SNC.

After a successful trial period the scheme has been extended and is ongoing.
Full details on the Behaviour Helpline page