Club Magazine

Published quarterly, our Club magazine 'Newf News' contains wonderful photographs and items of news, reports on events and articles to inform, educate and entertain.
Newf News is sent free of charge to all members so if you aren't already a member, why not join NOW?
The Newfoundland Of The Year Competition
The exact format, date and venue will be confirmed early next year.
WATCH THIS SPACE!
Next Events
DRAUGHT TESTS
Saturday 27th October (SNC)
&
Sunday 28th October (NC)
Bryn Bach Parc
Tredegar
Gwent
NP22 3AY
DRAUGHT TESTS
Saturday 10th November
&
Sunday 11th November
Grangewaters Activity Centre
Buckles Lane
South Ockendon
Essex
RM15 6RS
Voluntary Donations - Welfare
One of the main activities of the Club is providing careful re-homing of Newfoundlands, including those in urgent need of rescue. These welfare activities can be costly if the dogs require veterinary attention and we are extremely grateful for the funds raised by our members and friends which enables our volunteers to continue this important work.
If you would like to make a donation at any time, we are now able to accept payments via PayPal.
Working Newfies
The Southern Newfoundland Club (SNC) was formed in 2008 and is registered with the Kennel Club and recognised as an official UK Breed Club.
The club aims to promote, protect and preserve the Newfoundland dog breed by the involvement of the Club and our growing membership in Working, Showing and Welfare activities.
We are particularly keen on encouraging participation and involvement by our junior members so we feature prominently their results and achievements on this site. New pictures, announcements and other features are added regularly ... so please visit often!
Read More
Our content is produced largely from the photographs and information provided by our members so please send in your pictures, comments and suggestions to:
web@southernnewfoundlandclub.co.uk
.
Working Test Regulations are periodically reviewed and the Water Test Regulations are being looked at in advance of the new 2019 season.
Judges, Stewards, Test Managers, entrants and anyone with an interest in water work with Newfoundlands are invited to submit comments or suggestions in writing to Kay Burridge, Secretary of the Southern Newfoundland Club Working Section Committee. Kay can be reached by email at wsc-secretary@southernnewfoundlandclub.co.uk.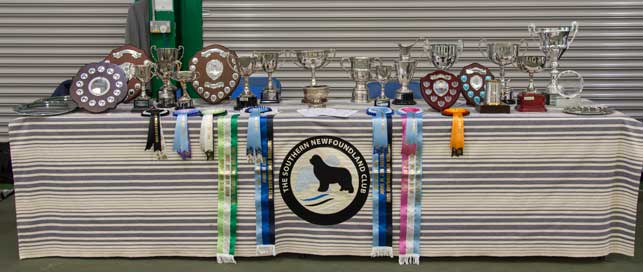 Facebook
Follow us on Facebook and stay up to date with our latest posts.
Club Membership - New Members
We are happy to welcome new membership applications. The annual subscriptions are;
Prospective new members must complete an application form which can be downloaded here.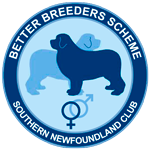 Better Breeders Scheme

- http://newfoundlandpuppies.co.uk
The new web site is intended to draw potential Newfoundland puppy purchasers away from the online adverts of puppy farmers and unscrupulous breeders and instead put them in touch with breeders who hold to the highest standards in planning, rearing and selling Newfoundland puppies.
To be successful we need all reputable breeders who are prepared to subscribe to the high standards of the scheme to join and include their litters, even if the puppies from that litter may already be spoken for ... it provides purchasers with the opportunity to contact the breeders they should be talking to!
The scheme is open to applications from members of ANY of the three UK Breed Clubs, not just to SNC members.
The scheme is operated by the Southern Newfoundland Club and administered by Suzanne Archer who is happy to talk with any breeders who are interested in joining the scheme. If you prefer you can contact Suzanne by email.
Visit the site