The Southern Newfoundland Club (SNC) was formed in 2008 and is registered with the Kennel Club and recognised as an official UK Breed Club.
The club aims to promote, protect and preserve the Newfoundland dog breed by the involvement of the Club and our growing membership in Working, Showing and Welfare activities.
We are particularly keen on encouraging participation and involvement by our junior members so we feature prominently their results and achievements on this site. New pictures, announcements and other features are added regularly ... so please visit often!
Read More
Our content is produced largely from the photographs and information provided by our members so please send in your pictures, comments and suggestions to:
web@southernnewfoundlandclub.co.uk
.

Our first Championship Show was held at the Kennel Club Building in Warwickshire and was judged by two highly respected judges from the USA, Mrs. Betty McDonnell (Kilyka) and Mrs. Debra Thornton (Cypress Bay).
The event was applauded as a huge success and was followed by a Gala Dinner. Full results, judges critiques and photographs of the winners are online.
View Show Results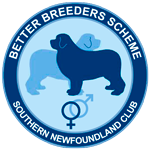 Better Breeders Scheme

- http://newfoundlandpuppies.co.uk
The new web site is intended to draw potential Newfoundland puppy purchasers away from the online adverts of puppy farmers and unscrupulous breeders and put them in touch with breeders who hold to the highest standards in planning, rearing and selling Newfoundland puppies.
To be successful we need all reputable breeders who are prepared to subscribe to the high standards of the scheme to join and include their litters, even if the puppies from that litter may already be spoken for ... it provides purchasers with the opportunity to contact the breeders they should be talking to!
The scheme is open to applications from members of ANY of the three UK Breed Clubs, not just to SNC members.
The scheme is operated by the Southern Newfoundland Club and administered by Kirsteen Farrar who is happy to talk with any breeders who are interested in joining the scheme. If you prefer you can contact Kirsteen by email.
Visit the site