SEVENTH SOUTHERN NEWFOUNDLAND CLUB OPEN SHOW
West Hall, Kennel Club Building, Stoneleigh, Warwickshire
28 November 2015
Show Manager: Jackie Bagnall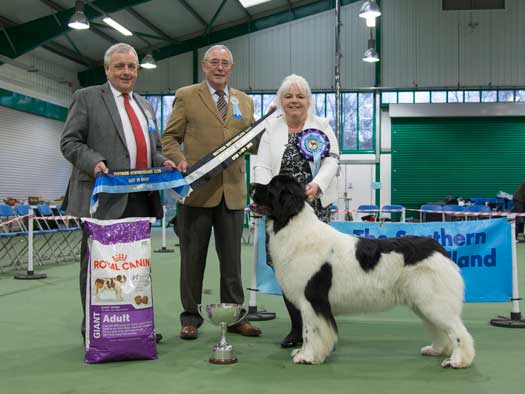 Best In Show
Mark & Jan Grove's
Ch. Bridgestone Grip It N'Rip It, JW
with bitch judge Mr. Simon Luxmoore (Hushwing/Zima) and dog judge Mr. Graham Hill (Dimland)
Show Manager's Report
"What a day we had for our 2015 Open show and what an outstanding entry of 146! Unfortunately our judge, Anthony Rees had to stand down due to ill health but we were lucky enough to get two exceptional replacement judges - Graham Hill (Dogs) and Simon Luxmoore (Bitches). Our Best in Show was Jan & Mark Groves' stunning White & Black Ch. Bridgestone Grip It N'Rip It, JW. Best Opposite Sex was Lynn Edwards' Veteran dog, Merrybear Stevie Wonder and Best Puppy was Pam & Gary Leech's Nandobears Happy Heart and Soul. Well done to you all!
Its always great to see such a great entry of dogs for a breed club Open show, an entry surpassing most of this year's Championship shows so I have to give a big thank you to all the exhibitors who took the time to give us their entry.
I would also like to thank all our committee and helpers on the day. It is a huge task organising and running a show and the job could not have been done without you. There are too many to mention here but you know who you are ... a BIG thank you to you all!
2016 will see our first Championship show with two quality International judges coming over from America, Mrs. Betty McDonald (Kilyka) and Mrs. Debra Thornton (Cypress Bay) so I hope to see you all again this year."
Jackie Bagnall
Dogs

Judged by Mr. Graham Hill (Dimland)

My thanks go to the very warm and friendly officers and committee of the Southern Newfoundland Club for inviting me, together with my co-judge Simon Luxmoore, to judge this very well run event. Simon and I were in agreement when deciding all the overall winners. My only regret is that my opportunity to judge this show was due to Anthony Rees, who was the original judge, having to withdraw due to illness. I was extremely pleased with the entry, both numerically and quality, and thoroughly enjoyed the experience.

As a non-specialist judge, I noted a variety of overall shapes, sizes and head shapes with some light eyes being evident. Tight elbows were in the minority and weak hindquarters especially noticeable in movement. On the whole my winners and those placed 1 to 3 dogs are indicative that the breeds is on the right side of good; this was endorsed when I had the opportunity to handle the winning bitches of my co-judge.

Click on the thumbnails to view a full-sized image

Veteran Dog (4 entries / 1 absent)
1st

MERRYBEAR STEVIE WONDER

An impressive quality upstanding mature black male. In profile he presents a commanding appearance, he is in excellent coat with everything in proportion. He is well balanced without exaggeration possessing powerful size with substantial bone. Masculine and breed typical in head which has width, is of good size but in total proportion to the rest of him, set on nicely to a good length strong neck. True and well boned front standing on good sized sound, tight feet; well made forequarters with pleasing fill-in across the chest. He is ribbed well back and having mature depth; firm in back and loin leading to strong moderately angled hindquarters. Moved with a free easy, steady stride having a true, positive action setting the standard for those much younger to attain. My Best Dog, Best Black, Best Veteran and overall Reserve Best In Show.

"Best Dog in Show" "Reserve Best in Show" "Best Opposite Sex in Show" "Best Veteran in Show" "Best Veteran Dog in Show" "Best Black Dog in Show"

2nd

DIRTY DANCING DE L'ILIADE ET L'ODYSSEE

A W/B shapely male who is pleasing in head with correctly shaped open eyes presenting a gentle expression. True and well boned fore-legs and pleasing in construction of front and forequarters. Overall he is well made and is balanced in angulations front/rear and is all in proportion in overall length to height although I preferred the eye-catching size, presence and profile of 1st. He moved with a free gait but tended to pull to one side.

3rd

VODAHOND INNUENDO

An upstanding, Brown, mature well coated male. Standing he presents a pleasing sizable well boned, powerful picture displaying pleasing substance and length of body. Well made front and forequarters although he tended to noticeably toe in sometimes standing and when on the move and to lose his top line. For me I would prefer more length of hindquarters but nonetheless one who presents obvious male breed characteristics.

Minor Puppy Dog (3 entries / 1 absent)
1st

BEARSCOVE SEA CAPTAIN AT DAVISTELL

A well grown 8 month old black who is pleasing in head; needs to grow into his ears; he has a very endearing gentle expression. He is very promising in development of bone and body with no obvious faults, which is so desirable in a puppy. He is true, well boned and well made in front with tight elbows endorsing his pleasing body substance and ribbing. Overall he already presents a balanced well proportioned profile and, although has puppy features, he has a sound foundation structure to grow on to a pleasing quality adult. His excellent conformation was confirmed by his active true movement.

2nd

COMFORTCOVE THIS IS THE ONE

A smart 6 month old black who is obviously a baby in coat and look. Nicely grown and having good bone and body for his age. Pleasing head shape both front on and viewed from the side. Needs to tighten all through which should come with growth and maturity. His movement improved as he gained confidence. A promising youngster.

Puppy Dog (2 entries / 0 absent)
1st

BRIDGESTONE HENRIK STENSON

A 10 month old good quality W/B who is of typy shape and has excellent bone and body substance with a pleasing overall balanced appearance. Very attractive breed typical head, eyes and expression which is all in proportion with everything fitting together well, both in angles and proportions. Excellent overall make and shape in body and coat. A very promising puppy who moves well with uniformity of stride and true action which edged him best dog puppy in breed.

"Best Puppy Dog"

2nd

BRIDGESTONE HARBOUR POINT

Another nice quality 10 month old W/B litter brother to 1st with the same positive comments. He has an attractive head and is well boned and has good body development and substance. Powerful neck and well constructed forequarters. Well made body and hindquarters which are firm of stance although would be the better if stood over more ground. Moved with purpose but unsettled. Stood and moved much better in the Junior Dog class with a different handler.

Junior Dog (11 entries / 4 absent)
1st

CAPE LEWISPORTE NIRVANA AT DARKPEAK

A super quality black male who is just 12 months old. He has a well balanced, well proportioned general appearance with nothing in exaggeration and has a smart, youthful but strong, agile look. I particularly liked his head and breed typical endearing expression. Well constructed front and forequarters with true well boned front and pleasing fore-chest; firm substance of body, which is moderately sprung and is well ribbed with just enough length of loin, all together presenting a strong level top-line and an impressive profile. He has moderate but distinct angulations front and rear and is of pleasing width and firm of stance in hindquarters. Very close up to my best dog who, on the day, edged it with his sharp mature well coated appearance and his free easy and consistent gait. Nevertheless a very worthy Reserve Best Dog with, I am sure, many top wins to come.

2nd

CARLOS CANCRIMO

A very smart quality W/B who at 17 months of age looks to be developing into a formidable male. Although not as high on the leg as 1st he is shapely and nonetheless well constructed. He is pleasing in head and expression which is set well onto a strong good length neck. Balanced and moderate in angulations front and rear with a well proportioned well ribbed body and strong loin. In profile he has eye-catching qualities and in the main stands four-square but tended to splay in front when relaxed. Moved well and with forward purpose.

3rd

BRIDGESTONE HARBOUR POINT

As Puppy dog.

Res

JUST FOR YOU DU DOMAINE DE FLAMBEAU

VHC

SPIREBEAR GOLDEN BARLEY

Graduate Dog (10 entries / 5+1 absent)
1st

CAPE LEWISPORTE NIRVANA AT DARKPEAK

As Junior Dog

"Reserve Best Dog in Show"

2nd

SANDBEARS MORE THAN CLASS

An imposing 19 month old black male who has a strong masculine head, dark well shaped eyes, I would prefer smaller ears. Well made front and forequarters with good fore-chest. True, well boned front, strong and well bodied with pleasing top-line. Good overall proportions and balance in angulations front and rear presenting an attractive profile when standing. Moved with purpose although a little fond of his tail.

3rd

ZENTAUR NOT WITH HASTE

An upstanding 22 month old black male of pleasing overall shape. substantial in bone and well made in body having good depth, fore-chest and width across the chest. All male, with a pleasing well shaped head, strong sturdy neck and pleasing length to height proportions. Firm and level in top-line with good length moderately angled hindquarters. Free in movement but a little unsettled in action and tended to carry his tail overly high.

Res

BLACKTIDE INTO THE BLUE

Post Graduate Dog (7 entries / 1 absent)
1st

MERRYBEAR FRERE JACQUES, ShCM

A striking 2 year old black male who is well balanced in angulations front and rear and presents a dignified but powerful appearance. He is breed typical and attractive in head and expression which I preferred to 2nd. He is well boned and true in front standing on good feet. Pleasing fore-chest and width all through. Firm and well made in body with a strong loin, which together ensures a strong level top-line. Move with an easy steady sound action.

2nd

IRON MAN OF JOALTA DES OURS DE PERONNE

A majestic black 2 year old male, who is shapely in appearance having distinct angulations front and rear. He is powerful in stature, being well boned and bodied with ideal spring and being well ribbed back. True front, with obvious fore-chest and good width across the front. He presents a shapely appearance which is of pleasing overall proportions with substance of body but still having an active look. Moved with a free even action but tended to be close both front and rear and less precise than 1st.

3rd

MERRYBEAR FREDDIE MERCURY

A good honest black 2 year old male who is litter brother to my 1st in this class and shares many of his positive qualities. Attractive in head with pleasingly shaped dark eye giving him a likable expression. True, well made and well boned in front. Stands well but needs to settle and be stood over the ground to give of his best. Moved freely with enthusiasm but just needing to steady to show off movement to its best.

Res

THICKISH NEWFOUNDLAND ZORBAS DANCE

VHC

WUZIBEARS HELTER SKELTER

Limit Dog (9 entries / 3 absent)
1st

MERRYBEAR D'ARTAGNAN

A 2½ year old imposing black male having a mature, noble appearance. He portrays an attractive picture having a well balanced side profile of pleasing proportions in length, height and substance. Well shaped head which is masculine and breed typical both viewed from front on and from the side. He possesses good spring, depth and length of ribbing with an ideal length firm loin producing a strong level back. He has moderate angulations front and rear which helped his free steady even action on the move.

2nd

WUZIBEARS MIAMI

A mature 4 year old black substantial male who is attractive in overall appearance. He is well boned and well bodied. Pleasing masculine typy head and expression set well onto a good length strong neck. True front, with moderate and balanced angulations front and rear. Moved well enough, but tended to short step.

3rd

LINDGREAVE SUMMER SHADOW

Another mature black; this one is 5 years old and is of similar make and shape to 1st. Strong, masculine well shaped head, expression would improve with a better shaped darker eye. Overall he presents a well balanced, strong appearance and moved well enough but needing to settle.

Res

NEWFOUNDLOVE NEW EDITION AT SHADOWRISE

VHC

KING OF HELLULAND OBSESSION TO WIN WITH CHATEAUNEWF

Open Dog (4 entries / 1 absent)
1st

Ch. SANDBEARS BETTER THAN EVER, JW

An imposing 3 year old black male who has a smart quality shapely appearance. He has a very well balanced side profile with all the angles and bits in the right places, presenting a very satisfying overall picture. Pleasing in head, eye and expression, which all together I preferred to others in this class. Substantial in bone and body, with a true parallel front and strong, parallel width behind. He was the better mover of this class.

2nd

WUZIBEARS FORTUNATE SON

A well-coated 4 year old black who is balanced in angulations although at times looked a little long in body. He is well boned and true in front with well made fore-quarters and having plenty of substance over his large frame. Moved well enough, though slightly heavy action in front.

3rd

ALBANYWATER SEA DANCER AT DAVISTELL, ShCM

A well presented 5 year old mature looking male. Masculine, strong head set well onto his powerful neck. He has a true well boned front, let down pasterns, tight elbows, substantial body which is ribbed back to a shortish strong loin. Well let down in hindquarters. Plenty of activity on the move, but needing to settle to give of his best.

Special Open - Black Dog (5 entries / 3 absent)
1st

LINDGREAVE SUMMER SHADOW

As Limit dog.

2nd

NEWFOUNDLOVE MY GUY AT SHADOWRISE, ShCM

An upstanding rising 4 year old black who has substantial bone and body. Broad and large masculine in head, all in proportion to the rest of him; Well developed neck and plenty of body substance covering his sturdy frame. Moved with an easy action but would prefer him to have more length of stride.

Special Open - Brown Dog (3 entries / 1 absent)
1st

SHALOWSEAS FIRECRACKER

An impressive rising 4 year old well made brown mature male. He has substance of body and is well boned all through being well balanced and of good proportions in side profile. Pleasing fore-chest. Attractive and breed typical in head which I preferred in eye and ears to 2nd. He is true and well constructed in front, body and hindquarters with sound moderate angulations front and rear. Moved well and the better of this class. Best Brown Dog & Best Brown in Show.

"Best Brown In Show" "Best Brown Dog"

2nd

SPIREBEAR GOLDEN BARLEY

A well developed 12 month old male who has pleasing substantial bone and substance of body. He pleases in overall make and shape being well balanced in angles and body proportions. Needs to tighten in front and settle on the move, which should come with future development.

Special Open - White & Black Dog (5 entries / 1+1 absent +1 disq.)
1st

DIRTY DANCING DE L'ILIADE ET L'ODYSSEE

As Veteran dog.

"Best White & Black Dog"

2nd

CARLOS CANCRIMO

As Junior dog

Bitches

Judged by Mr. Simon Luxmoore (Hushwing/Zima)

It was with mixed emotion that I undertook this appointment as a replacement for Anthony Rees (Amical) who through force of circumstance had to withdraw on health grounds. Anthony would have been very proud of his entry and Graham Hill, who judged the dog entry on Anthony's behalf and who was an absolute pleasure to judge alongside, and I agreed on all our major award winners.

Finally I would like to thank the Southern Newfoundland Club's Committee, who must provide some sort of 'benchmark' in working together, for organising such an excellent show. Well done indeed.

Click on the thumbnails to view a full-sized image

Veteran Bitch (5 entries / 3 absent)
1st

ACARA MISS BRASSIBEAR OF SHINGLEBAY, ShCM

A very nice veteran who won the class on her sound ground covering gait. Absolutely parallel on the out and back and swept round the ring in profile. Nice dark eye, she presented a well balanced overall picture. Shown in good muscle and general condition.

"Best Veteran Bitch"

2nd

VODAHOND CARRIE ANN, ShCM

Another veteran who I have seen before, who has a nice standard fitting head, holds a strong top line, covers good ground in profile but was not as 'tidy' as 1 on the out and back.

Minor Puppy Bitch (11 entries / 4 absent)
1st

NANDOBEARS HAPPY HEART AND SOUL

Very nice puppy who fully deserved her BPIS success. Lovely young head, absolutely balanced throughout and even at 7 months was one of the very best 'movers' on the day. Very well handled and presented and I hope she goes on to deliver her potential in maturity.

"Best Puppy Bitch" "Best Puppy In Show"

2nd

COMFORTCOVE CARELESS WISPA

Another nice puppy who was unlucky to meet 1. Good angulation front and rear and covered the ground well in profile. Very much a puppy and should also be an excellent prospect.

3rd

KING OF HELLULAND EDGE OF GLORY FOR MORRELHAM

Nice dark eye with a good yet immature feminine head. Good shoulder but somewhat out of balance on the day since she was going through the 'up behind' stage! Shown in excellent coat and condition.

Res

DEEP LOVE LIFE GOES ON FOR STELAMAH

VHC

BEARSCOVE SEA TREASURE

Puppy Bitch (8 entries / 1 absent)
1st

NANDOBEARS HAPPY HEART AND SOUL

2nd

SANDBEARS BACK N'BUSINESS

Good standard fitting head with a nice dark eye. Good overall proportions when viewed in profile with a particularly good shoulder. Nice feet and pasterns, just a touch loose behind on the move. Good coat, well handled ad presented.

3rd

BRIDGESTONE HUMMINGBIRD

Nice white and black with a good head. Excellent front angulation but on the day she did not quite possess the 'go' of 2. Shown in heavy coat.

Res

SHEENMARIE STAR FOR YOU

VHC

COMFORTCOVE STIR IT UP

Junior Bitch (10 entries / 4 absent)
1st

SENSITIVITY BLISS NIKITA AT LINDGREAVE

I preferred the head of 1 over 2. Good reach of neck, strong top line and well angulated front and rear. Parallel throughout. Correct croup, tail set and carriage. Shown in nice coat, well handled and presented.

2nd

MERRYBEAR GIOVANNAA VIA FURNDONBAY

Another nice example of the Breed shown in excellent coat and condition. Has as much length in mid back as I would like, but is well angulated front and back. Covered plenty of ground on the move and was sound throughout.

3rd

BAGGLEBEARS MOONSTRUCK

Nice feminine head and expression, good shoulder and held her top line well. Not quite as tidy on the move as 2 when viewed from behind.

Res

STANEBERNE SEA ANGEL

VHC

SANDBEARS TRES BIEN

Graduate Bitch (8 entries / 0+1 absent)
1st

FURNDONBAY RUN THE WORLD

Excellent head, and nice reach of neck. Well angulated throughout with a strong top line. Correct croup tail set and carriage. Languid on the move whilst covering plenty of ground and absolutely parallel front and back. This is a slow maturing bitch and as a result I think she will more than 'last'. Good prospect.

"Reserve Best Bitch In Show" "Best Black Bitch"

2nd

NANDOBEARS HAPPY HEART AND SOUL

3rd

LARKHARBOUR SILVER CLOUD

Nice feminine head and expression, good angulation but she could not hold her top line when standing. Good bone, correct pasterns and nice feet. Covered the ground well.

Res

SHINGLEBAY HIGH HOPES

VHC

LARKHARBOUR SILVER DAWN

Post Graduate Bitch (3 entries / 1 absent)
1st

SAKARIBEAR SENDING A KISS TO TALLISBAY

Nice two year old bitch, good overall proportions and shown in good coat and condition. Easy ground covering gait when viewed in profile.

2nd

SHEENMARIE YOU DREAMER

Nice feminine head but I felt she was standing a little 'up behind' on the day, which somewhat limited my ability to be able to assess her properly.

Limit Bitch (9 entries / 4 absent)
1st

SANDBEARS TALK'N TACTICS FOR MORRELHAM

This is a nice bitch with a standard fitting head who just took the class with slightly better overall balance when viewed in profile. Both 1 and 2 moved well in profile but 1 held her top line throughout. Shown in good coat and condition.

2nd

MILEOAK MON AMOUR OF CAMNOIRE

As I have said a nice example of the Breed who just couldn't hold her top line when standing. Good angulation and absolutely sound on the move.

3rd

TALLISBAY TRUE DELIGHT

I preferred the heads of 1 and 2 but this bitch was excellent on the move with plenty of reach and drive and presented a balanced picture when viewed in profile.

Res

VODAHOND DELTA LADY

"Best Brown Bitch"

VHC

DEARCHARY QUEEN OF SPADES

Open Bitch (4 entries / 2 absent)
1st

Ch. BEARHUGS ANYA

Nice mature feminine head, excellent angulation front and rear and held a strong top line. Excellent ground covering gait and shown in good coat and condition. Handled to advantage.

2nd

SHINGLEBAY INNAMORATA ShCM

Nice bitch without quite the qualities of 1. Well balanced, good shoulder and covered the ground well.

Special Open - Black Bitch (4 entries / 1 absent)
1st

MERRYBEAR EUPHORIA AT MILLTHORPE, JW

Standard fitting head and moved with purpose around the ring. Held her top line well, good croup, correct tail set and carriage.

2nd

SHEENMARIE STAR FOR YOU

Puppy bitch, with an easy gait, clearly an immature head but a good prospect.

3rd

SHEENMARIE YOU DREAMER

Special Open - Brown Bitch (3 entries / 1+2 absent)

Special Open - White & Black Bitch (7 entries / 2 absent)
1st

Ch. BRIDGESTONE GRIP IT N'RIP IT, JW

Whilst still a youngster this was for me the stand out exhibit on the day. Lovely standard fitting head and appealing feminine expression. Excellent angulation front and rear, good bone, strong top line easy and efficient ground covering gait. I hope she maintains and retains her qualities into full maturity, if she does she will provide formidable opposition.

"Best in Show" "Best Bitch in Show" "Best White & Black in Show" "Best White & Black Bitch"

2nd

WANITOPA TIDAL WAVE

Preferred her overall proportions over that of 3 possessing a touch more mid back length. Easy on the move, and possessing a nice feminine head.

3rd

BRIDGESTONE GRANDE DUNES AT SQUESTPAWS

Another nice example of the Breed, balanced angulation, good head, shown in good condition and covered the ground well both in profile and on the out and back.

Res

WUZIBEARS BRIGHT AS A BUTTON

VHC

MONTEVENTO'S VENNI VIDI VINSI
Special Award Champions Class
Judged by Mr. Paul Dodd
Champion (Dog or Bitch) (9 entries / 5 absent)

My thanks to the SNC Committee for the invitation to judge the Special Award Champions class at this year's show, I regarded it as a great privilege. My thanks also to everyone who entered and those exhibitors who gave me the opportunity to go over their Champions.

All of the dogs were beautifully presented, had excellent temperaments and were rock steady in the ring. There were no jowly lips, loose eyes or exaggerated features here and, as you would expect with dogs of this high standard, my placings demanded some hair-splitting as each had their own outstanding qualities.

1st

Ch. SANDBEARS BETTER THAN EVER, JW

A three year old Black male just coming into his prime and looking very impressive both stacked and moving. Muzzle is short and broad with good colour eyes set wide enough apart and showing only a tiny amount of haw in the outside corners. Skull is broad with a pronounced occiput and his expression is kind and confident, he is happy to make good eye contact. Hands on you can feel the strength in his neck, shoulders and through his withers - highly desirable in a working dog that should be capable of pulling a laden cart. Chest is broad and deep with plenty of heart and lung room and he stands straight and true in front on legs with massive bone. Loved his huge well-padded feet and the way he stands up on his pasterns. Good depth and spring of ribs, good width and strength in his quarters. Angulation is very good front and rear, correct tilt of his pelvic assembly adding to his rear angulation and creating an attractive fall-away over croup and a good tail set. Coat well prepared, flat and of the correct texture with that slight dullness which is called for in the Standard. Very well muscled and in good hard condition he moved with an easy stride looking best when moving at speed where his reach and drive become more apparent. Won this class on his superb bone and the sense of power combined with gentleness which he conveys.

2nd

Ch. BRIDGESTONE GRIP IT N'RIP IT, JW

Not quite two years old, I judged this White & Black bitch as a puppy awarding her that class. She has developed into a lovely young bitch with the sweetest of expressions. Head is strong but very feminine with dark tight eyes and ears set well back. Good neck, well developed fore-chest and stands square in front with close fitting elbows. Excellent depth of chest and very well ribbed with good width all the way through her body. Slightly stronger in backline than the winner and with the same shapely fall-away to croup. Very clean markings, her white coat was pristine. Good angulation front and rear, this young lady is so evidently happy on the move with a measured stride and that characteristic newfie roll which is accentuated by her Landseer markings. A top quality bitch.

3rd

Ch. DARKPEAK FALLEN ANGEL

Almost seven years of age this Black bitch gives nothing whatsoever away to the younger dogs. There is a sense of elegance about her, particularly in profile, she presents a pleasing outline with plenty of leg under her. Fractionally longer in muzzle than the first two she has a good mouth and excels in eyes which are small as they should be, dark in colour, tight and an attractive shape. A good size for a bitch she has reach of neck still maintaining strength, very good bone, good size tidy feet, good width and depth of chest and ribs. Very strong level topline which she held on the move. I was most impressed by her muscle mass and excellent muscle tone, particularly noticeable in her rear quarters - hardly surprising then that she moved very well.

Res

Ch. BEARHUGS ANYA