FUN DAY, COMPANION SHOW and MATCH
Saturday 24 September 2011 - Devizes, Wiltshire
Kindly hosted by John & Christine Bodman and sponsored by Royal Canin
SNC Chair Hedd Richards presenting Christine and John Bodman with a thank-you bouquet
The Devizes fun day was a great experience and a date which will definitely be in our calendar for next year. Pete and I arrived with Riddick and Honey around mid afternoon on the Friday and were greeted by the owners Chris Bodman and her husband John. What a lovely couple, they could not do enough to make us welcome and to ensure that this event is a success every year.
The sun was shining as we set up our caravan in this very large and apparently Newfie escape proof field (to be tested later, no doubt!). The rest of Friday was spent getting to know everyone, humans partaking in a drink or two and Newfies running happily around the field (which was Newfie proof!)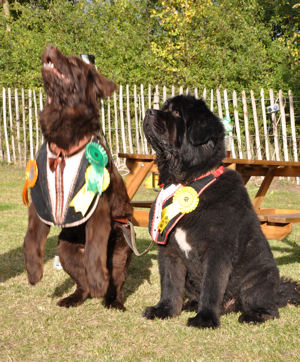 Honey and Riddick had a good time
Saturday emerged as a lovely day, we could not have asked for better weather. Stalls were being erected and food was plentiful, burgers, sausages, homemade cakes and our food tester Sampson, Cheryl and Phil Payneís dog made sure the food was fit for human consumption Ė it was a good job he didnít enter the sausage catching competition because I donít think Honey would have come third and as for Riddick, he was still trying to understand why food was being thrown at him!
The fun day was well supported not just by the Newfie group but also the German Shepherd club and locals so there was a variety of dogs and the judge, Paul Dodd, did not have it easy assessing all the different pedigrees to come up with winners for each category but he obviously took his job very seriously, as when it came to choosing the dog he would most like to take home, he had to be stopped from loading the gorgeous black poodle into the back of his car!
In the evening a barbeque had been arranged in the pub, which was just a few minutes walk from the field and dog friendly. We decided to have our own barbeque in the field as Sampson was not up to the walk but heard some very good reports on the spread as people returned to join us relaxing under the starry canopy of night, what a lovely end to a glorious day.
Carole Veness