Showing your Newfoundland - Getting Started
Showing your Newfoundland should be fun (for both of you!), but getting started might seem a daunting task.
RINGCRAFT CLASSES
First port of call should be a ringcraft class. These classes are held for the novice and experienced handler and their dogs. Even puppies from seasoned show kennels benefit from getting used to travelling, echoes in noisy halls, moving on mats, seeing other breeds and being examined (gone over) from a person different to the owner or the vet.
'STACKING' YOUR DOG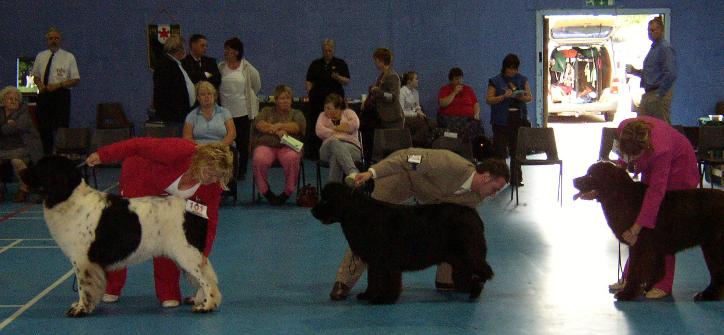 You will need to learn how to "stack" your dog. When shown, the Newfoundland is placed into position by the handler. The front legs are parallel to each other with the feet facing forward, but be watchful of placing the legs/feet too far forward or your Newf will look like a rocking horse! The hind legs should also be parallel with the feet facing forward, again not placing the rear legs too far back so the dog looks overstretched. When correctly stacked the Newfy resembles a box shape, slightly longer than its height. The head is gently held up by the collar showing a proud head carriage. It can be helpful to practice in front of patio windows or a large mirror, or get someone else to hold the dogs head once it is stacked, so you can see how it looks. PRACTICE, PRACTICE, PRACTICE!
MOVING YOUR DOG
You will also need to learn the best moving pace for your Newfy. This should be a speed at which the dog's attributes can be seen clearly by the judge. Bounding, galloping and bunny-hopping does nothing to show good sound movement, neither does a pace close to walking!
PRESENTATION
These days presentation plays a big part in showing your Newfoundland. There is nothing worse for a judge than to be presented with a dirty, matted dog to go over. Your Newfy will need to be thoroughly groomed and bathed before a show. Bathing a couple of days before a show will allow the natural oils to return to the coat. Latterly, trimming the hair plays a part in the presentation of your Newfy. How much depends on your personal preference, although all Newfoundlands have their ears, feet and chest trimmed to some extent. This can be a daunting prospect for first time/new exhibitor. Perhaps the breeder can help you, or a kindly fellow exhibitor will show you the ropes, but don't leave this until 10 minutes before you are due in the ring! Trimming takes time to get the desired look.
All exhibitors need to be aware of the Kennel Club's REGULATIONS FOR THE PREPARATION OF DOGS FOR EXHIBITION F (B); these are printed in the show schedules. Read them carefully or it may lead your dog being disqualified! After all the hard work getting your dog ready for his big day, you should complement him by being well presented yourself. Wearing an appropriate colour to complement your dog's coat will enable the judge to see the dog clearly. You will also need a smart show check chain (not too chunky) a thin leather lead and the means of displaying your exhibitor number either on your left arm or your chest. An arm band or a ring clip is best for this and are available at shows at very little expense.
If you need any help of advice please email show@southernnewfoundlandclub.co.uk
Author: Jan Groves