SNC WORKING TESTS
Friday 13 September 2013 - Jersey Activity Centre, St. Martin, Jersey, Channel Islands
Saturday 14 September 2013 & Sunday 15 September 2013 - St. Peter, Jersey, Channel Islands
DRAUGHT: Beginners & Level 1 WATER: Sections A to E
Kindly hosted by the Jersey Big Dog Club
Test Manager - Mr. David Taylor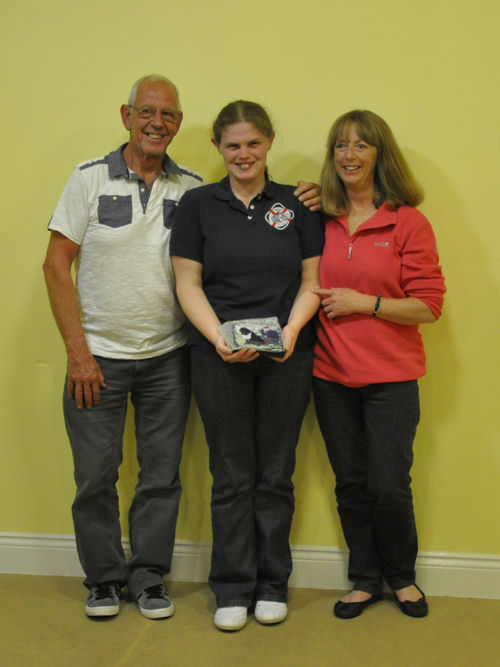 Gemma receives a Special Achievement award from the Jersey Big Dog Club after handling 'Becky' to a pass in the Beginners Draught tests. Pictured here with judges Clive Haylock and Kay Burridge
"A three day event - a first for Jersey! Friday 13th was draught testing at Beginners and Level 1, with the judges flying in just in time. A good entry with five going on to Level 1 and passing! Fortunately darkness fell just as we finished. On to Saturday and the weather stayed fine, although breezy. Testing for A and C level passed without incident, again with many passes.
On Sunday the weather was going to change, so a decision was made to start an hour earlier at 9am. All participants accepted this with good grace, considering the long day on Saturday. Testing finished just as the wind increased and the rain arrived!
I would like to thank the Southern Newfoundland Club for allowing us to hold these tests in Jersey. The judges and stewards were superb not only in completing their roles, but also in the way they so willingly gave of their experience and knowledge to us all. The Jersey Big Dog Club continues to benefit from your support and we all thank you all. Looking forward to next year (I think!)."
David Taylor
Pictures from the SNC Working Tests in Jersey - 13 to 15 September 2013
Click on the thumbnails to view the high resolution pictures or start a slideshow
DRAUGHT TESTS - BEGINNERS LEVEL
Entrants: 15 (9 Newfoundlands, 5 Leonbergers, 1 Bernese Mountain Dog) Passes: 7 Withdrawn: 1
Judges: Clive Haylock & Kay Burridge


Congratulations to:

Webber's Seamble Majestic "Lincoln"
Pallot's Vodahond Black Man Ray "Rocky"
Taylor's Mollynewf Rebecca's Gift "Becky" - handled by Gemma
Germain's "Ted" (Leonberger)
Lester & Hutchinson's Starlock City Affair "Khan" (Leonberger)
Venable's "Woody" (Bernese Mountain Dog)

Judges: Mick Reilly & Peter Webber

Congratulations to:

Dutot's "Apollo"




Judges Report - Beginners Level



"We would like to thank the SNC for inviting us to judge at this lovely location and thank the Jersey Big Dog Club for their wonderful welcome and superb hospitality.

There were 15 teams entered, with 7 passes. Due to the failing light 1 team was judged by the Level 1 judges.

In general lead work, lack of control of dog and the down stay caused the most problems and need to be worked on for the future.

This was the first draught test for the majority of the teams, we hope they all enjoyed it as much as we enjoyed judging, we hope to see you all at future events."

Kay Burridge & Clive Haylock

DRAUGHT TESTS - LEVEL 1
Entrants: 5 (3 Newfoundlands, 2 Leonbergers) Passes: 5
Judges: Pete Webber & Mick Reilly


Congratulations to:

Pallot's Vodahond Black Man Ray "Rocky"
Arnold's Newgraden Knight Of Templar at Newfarrier "Arthur"
Arnold's Staneberne With Love to Newfarrier "Evie"
Germain's "Ted" (Leonberger)
Lester & Hutchinson's Starlock City Affair "Khan" (Leonberger)




Judges Report - Level 1



"Great to be at the Jersey Big Dog Club's first Draught Tests, they showed us a warm welcome and entered the test with their normal enthusiasm.

The afternoon went quickly and with a good entry we started in the sun and finished in the dark. We had five entries with five passes, so a big Well Done!

Looking forward to next years tests."

Pete Webber & Mick Reilly
WATER TESTS - SECTION A
Entrants: 9 (7 Newfoundlands, 2 Leonbergers) Passes: 8
Judges: Chris Roberts & Paul Dodd


Congratulations to:

Burridge's Bridgestone Callaway at Bagglebears "Tia"
Dutot's "Apollo"
Taylor's Mollynewf Wanahon Nijikwe "Mollymae"
Pallot's Bosighey Brown Eyes "Yogi"
Laffoley's Newruff Dash of Class "Obee"
Webber's Seamble Majestic "Lincoln"
Webber's Teddyhawks Mr Daydreamer "Rushmore"
Channing's Vanroy Pumpkin Pie "Zshakira" (Leonberger)




Judges Report - Section A



"It was a privilege to be invited to judge these second working tests on Jersey organized by the Jersey Big Dog Club. We enjoyed the most fantastic hospitality and the warmest of welcomes and would like to say thank you to everyone involved. The enthusiasm and eagerness to learn and progress was wonderful and makes judging a pleasure.

The standard was very good, especially given that many of the dogs and handlers are very new to water work. Eight of the nine entrants passed, the one that was not ready today listened and learned, and passed the following day. Well done to you all, keep practicing and learning and we will be seeing you in B's and C's in the future.

Finally a big thank you to the stewards and to David Taylor for managing the tests and to Carol Taylor for her work in organizing the paperwork - you probably have a job for life!"

Chris Roberts & Paul Dodd

WATER TESTS - SECTION C
Entrants: 6 Passes: 2
Judges: Clive Haylock & Peter Webber


Congratulations to:

Arnold's Newgraden Knight Of Templar at Newfarrier "Arthur"
Burridge's Bagglebears Gregale "Izzi"




Judges Report - Section C



"Thank you to the Southern Newfoundland Club for the invitation to judge and a big 'thumbs up' to the Jersey Big Dog Club for all their friendship and hospitality during the weekend.

On the day we had 6 entries, with 2 passes. The teams worked extremely well together, the safe swim being the main stumbling block but what an improvement with handlers and dogs doing so well. From this event we can say that we have all learnt, judges, handlers and stewards.

Thank you Jersey for a full and very enjoyable weekend, we wish the club the very best and look forward to next year."

Clive Haylock & Pete Webber

WATER TESTS - SECTION E
No Entries:
Judges: Keith Sargeant & Mick Reilly

WATER TESTS - SECTION A
Entrants: 4 (3 Newfoundlands, 1 Leonberger) Passes: 4
Judges: Chris Roberts & Peter Webber


Congratulations to:

Burns' Seadance Rainbow Wishes avec Quornbear "Holly"
Taylor's Mollynewf Wanahon Nijikwe "Mollymae"
Burridge's Bridgestone Callaway at Bagglebears "Tia"
Dutot's Seaxa Jade "Muppet" (Leonberger)




Judges Report - Section A



"Day two of the water tests and everyone keen, even though the weather was not as good as day 1.

We had four entries and four passes, so keep the training going to move to the next level. Great to see the Leo's and Newfies working and how different they are. Well done to everyone."

Chris Roberts & Pete Webber

WATER TESTS - SECTION B
Entrants: 11 (9 Newfoundlands, 2 Leonbergers) Passes: 3
Judges: Clive Haylock & Paul Dodd


Congratulations to:

Taylor's Mollynewf Wanahon Nijikwe "Mollymae"
Webber's Seamble Majestic "Lincoln"
Burridge's Bagglebears Gregale "Izzi"




Judges Report - Section B



"It was a good second day for the SNC water tests hosted by the Jersey Big Dog Club. The poorer weather stayed away until we had completed the 11 Section B tests. Three dogs reached the required standard and achieved their passes, congratulations to their owners and handlers. Of the remaining eight some came very close, while some need much more work on the controlled swim. Amazingly this is the first time, for both of us, that we have seen every entrant successful in the underwater retrieve, very well done!

It is encouraging that most of the Jersey Big Dog Club members also participate in draught work as the obedience and control elements in that activity will benefit the dogs and handlers with water work.

A big thank you to the helmsman and stewards who coped well with the stiff breeze blowing across the lake."

Clive Haylock & Paul Dodd

WATER TESTS - SECTION D
Entrants: 3 Passes: 0
Judges: Mick Reilly & Keith Sargeant




Judges Report - Section D



"Three entries today - all dogs were competent at most elements but unfortunately did not want to do element one, all need to persevere on this element to pass Level D, which all are capable of achieving in the near future.

Many thanks to all the members of Jersey Big Dog Club for inviting us to judge and really making us welcome."

Mick Reilly & Keith Sargeant