The Newfoundland's working capabilities are well demonstrated by it's abilities as a draught dog. Developed for their strength, stamina, steady temperament and willingness to serve their owners, draught work is a super way to exercise and develop their instincts. Newfoundlands like to work, they are happy and well-adjusted when they are allowed to perform the functions they were bred for. In learning the working disciplines, a Newfoundland is encouraged to be obedient and controlled ... highly desirable qualities in a giant breed.
The Southern Newfoundland Club is keen to promote the safe training and working of Newfoundlands across the UK. The emphasis is on having fun with your dog and enjoying developing the dogs natural instincts. We strongly recommend that you join one of the many Working Groups around the country as there you will receive the best advice and assistance in starting out to work with your Newfoundland. Call or email if you would like us to put you in touch with your nearest working group. Alternatively, a list of the UK Working Groups appears on our Links page.
We organise events, usually held in conjunction with independent working groups, which feature draught work including Fun Days, Spectaculars and formal Tests. A list of forthcoming SNC events can be found on our Events page.
Test Regulations
The current Test Regulations effective from mid 2011 are used by the Southern Newfoundland Club and the Newfoundland Club. The full Regulations can be downloaded (as an Adobe PDF document) by clicking here.
From October 2019 new Draught Tests Regulations jointly agreed with the Newfoundland Club and Northern Newfoundland Club come into effect. The new regulations are available here along with the Addendum specific to SNC Draught Tests here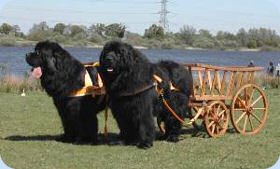 NOTICE: DRAUGHT TESTS
LOADS FOR HAUL SECTION
Entrants to Draught Tests will now be responsible for supplying their own weights for the haul section of the tests:
Level 1 - 5 kg
Level 2 - 10 kg
Level 3 - 15 kg
Level 4 - 20 kg
We recommend water containers are used as 1 litre of water = 1 kg in weight. Therefore a filled 5 litre water container = 5 kg weight, and so on.
Effective from January 2016