Showing your Newfoundland - Types of Show
COMPANION SHOWS
Previously known as Exemption Shows, these can be a good training ground for the first time exhibitor. There are classes for pedigree dogs as well as Novelty classes for pedigrees and cross breeds. The pedigree classes are numerically few; if perhaps you enter your puppy in Any Variety Puppy, you will be in a mixed class of pedigree dogs ranging from the Pomeranian to the Newfoundland! There will usually be an Any Variety Working dog class; again you will find yourselves up against other "working" breeds. The novelty classes are "fun" classes, and these will be numerous. They will range from Most Handsome Dog or The Dog with the Waggiest Tail, to 'The Dog the Judge Would Most like to Take Home', there could even be a Fancy Dress class! But like ALL shows there are rules of entry, a judge and a ring steward.
A Companion Show is not pre-entered; the entries are made on the day. These shows will be advertised in the dog press i.e. Our Dogs, the local newspaper, pet shops, veterinary surgeries, training clubs etc. Entering is easy, you turn up at the venue, and enter as many classes as you wish, paying a nominal fee for each class. Fill in the form with your dog's name (usually just the pet name) and your details. You will be given a running order of the classes to be judged. Just REMEMBER under KC rules a dog must be 6 months old to be eligible to compete at any show, and at a Companion Show a dog must NOT be a Junior Warrant winner, have a Reserve CC or a CC or be a Champion. A Companion Show does not enable your dog to qualify to enter Crufts.
MATCHES
Matches are usually held by a canine society's ringcraft team. It is good practice both for those hoping to attempt entering formal shows and for those who are interested in judging. Often held as evening events, the Match Night is a regular feature on the doggy scene. Entries are taken at the time and typically dogs are randomly drawn in pairs to compete against each other with the winner of each pairing going forward to the next round until a single winner is reached (Best Adult Dog in Match).
There is also a Puppy section where the same format is adopted with the winner being declared Best Puppy in Match. Puppy and Adult winners compete against each other for the overall Best in Match. The judges are often selected from those people who want to learn to judge and may not be familiar with other breeds. Conversely, in order to raise funds for the canine society, a well known high profile local judge may be officiating and exhibitors are able to glean valuable comments and tips from them. Like the Companion Show, dogs with CCs, RCCs or a JW are not allowed to enter.
LIMITED SHOWS
For those not brave enough to attempt an Open Show, the Limited Show is a nice stepping stone from the Companion Show. These are somewhat low on breed classes and are often held in the evening with just one judge assessing all classes. Exhibitors must be members of the canine society holding the show (membership is paid alongside the entry fee some weeks before) and are not allowed to show a dog that has won a CC. There are no Crufts qualifications, Junior Warrant or Show Certificate of Merit points available at Limited Shows.
OPEN SHOWS
These shows are more formal than the Companion Shows, and are set into two categories. Judged on the Group System, and Not Judged on the Group System. The entries for these shows close roughly 4 weeks before the show takes place. Open shows are advertised in the dog press, or you can ring the secretary of a show society to enquire if they will be having an Open Show, or check out web sites. Some show diaries give a comprehensive list of all the show societies and a calendar of dates for the shows being held that year. Not all Open Shows will schedule classes for Newfoundlands, but there will be an A.V. (Any Variety) Working class or an A.V.N.S.C. (Any Variety Not Separately Classified) Working class, where you would be competing against different breeds within the Working Group. Depending on the show, there could be one, two, three, or five Newfoundland classes. Usually the classes are mixed sex (dogs and bitches together), although sometimes the Open class may be single sex. You will need to decide which class to enter, a definition of classes will be included in the schedule. You can enter more than one class, you can even enter the A.V class and a Stakes class too, but if Newfy classes are scheduled then you cannot enter A.V.N.S.C.
Open Shows have a running order for the ring in which your breed has been allocated. There will be many different breeds using the same ring in the order in which they have been scheduled to be judged. This order of judging is usually printed on the entry schedule, and in the catalogue which will be available to purchase on the day. There may be some waiting around until your breed is due to be judged. Your exhibitor number is usually given out in the ring by the steward when he calls in the class. Check by watching a few classes beforehand, some shows require you to collect your number from the Secretary's office. If you win your class, you will need to remain in the ring for the judge to write a critique about your dog. This should then appear in the dog press within the following month. You should then remain nearby, as you will be called back into the ring by the steward as an unbeaten dog to compete for either Best of Breed (BOB), Reserve Best of Breed (Res BOB), and/or Best Puppy in Breed (BPIB). A lap of honour is given by the winners, before leaving the ring. If you have won BOB or BPIB you will need to stay for the Group judging if the show is judged on the group system. If the show is not judged on the group system you will need to stay for Best in Show. This is usually judged in the main ring. The groups are judged when all the breeds of that group have been completed. You will then compete against all the other BOB's or BPIB's, depending what you have won. If you win the group, you will then face the other six winners of their groups (Toy, Utility, Gundog, Pastoral, Terrier and Hound) for Best in Show or Best Puppy in Show. Of course if the judging is not on the group system, then all the BOB's compete against each other in one huge class and the winner is declared Best in Show; the same is repeated for Best Puppy in Show. At a General Open Show your dog can qualify for entry for Crufts by winning Best in Show (BIS), Reserve Best in Show (RBIS), or Best Puppy in Show (BPIS).
PREMIER OPEN SHOWS
These shows are run in the same way as an Open show, but the Best of Breed winner is eligible for entry to Crufts, providing there are more than three breed classes scheduled. Premier Open Shows are usually held over more than one day, so if you win Best of Breed and then the Group you will be required to return on the final day of judging.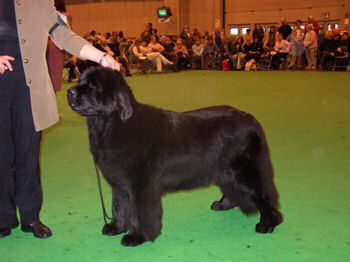 CHAMPIONSHIP SHOWS
These shows are where most dogs qualify for Crufts and where a dog can attain the status of Champion. A show can be held over one to four days. The entries for this type of show close between 6 - 8 weeks beforehand. Championship shows are advertised in the dog press. Once you have entered a Championship show, you are usually automatically sent a schedule for that show the following year. Once at a Championship show you will be able to collect other schedules for coming shows and schedules for open shows. A Champ Show can be entered online if the facility for that show is available; otherwise entries are made by post. It is always wise to obtain a proof of posting certificate at the time of posting, because if your entry does not arrive to the show secretary, you have proof that the entry was sent and your dog will still be allowed to be exhibited. Passes are sent out for these shows and they usually arrive 10 days to a week before the show. There will be an entry pass and a removal pass for your dog, keep these safe as you will need to hand these in at the entry gate. You will also receive a list of your allocated ring, which hall/tent you are benched in and the time that judging will commence. At a Champ show the dogs and bitches are judged separately. The dogs are always judged first, so be prepared with your male puppy to be there early! To qualify for Crufts you need to be placed either 1st 2nd or 3rd in a qualifying class. Newfoundlands are currently a Band D breed, which means the qualifying classes are:
Minor Puppy (age 6 - 9 months)
Puppy (age 6 - 12 months)
Junior (age 6 - 18 months)
Post Graduate (for dogs which have not won 5 or more 1st places in Post graduate, Limit, Mid-limit and Open or have not won a Challenge Certificate)
Limit (for dogs which have not won 7 or more 1st places in Limit and Open or have not won three or more CCs.)
Open (for all of the dogs of the breed for which the class is provided)
Veteran (7 years and over)
Winning a CC
Winning a RCC
However, the Crufts Qualifier can be changed annually by the Kennel Club so it's worth checking, either on the KC website or in the dog press, to see if there have been any changes.
Some Championship shows are "benched" shows, so you will need a benching chain for your dog. This is a chain that can be adjusted in length, it attaches to the bench at one end and to your dogs collar at the other. Your exhibitor number will be displayed on the removal pass along with your dogís pedigree name, or you can buy a catalogue to find your bench number (these are usually pre-ordered with the entry). You will need to find your bench in the allocated tent; this will display two cards with the same number. One is for you to wear in the ring as your exhibitor number, the other remains on the bench. Judging can be held indoors or outside, weather and facilities depending.
Keep an eye on the time and the ring so you do not miss your class. Champ shows are busy and crowded so give yourself time to prepare so you both are not rushed and stressed. Judging is carried out in the same way for all shows, but at the Champ show you can expect many more exhibitors in your class. When moving around altogether, do not crowd the dog in front by running too closely behind it and do not overtake the exhibitor in front of you even if you think they are moving at a snailís pace! Stop and let them move ahead a little way before continuing. Only answer the questions you are asked by the judge, do not try and strike up a conversation. If you are not lucky enough to be placed, leave the ring with good grace - good sportsmanship is paramount. If you are placed, congratulate the exhibitors placed ahead of you. Critiques are written on the first two dogs, these will stand at the judges table in the show stack. When the judge acknowledges he/she has finished with you, promptly thank him/her and leave the ring. When all the male classes have been judged the steward will call for "all unbeaten dogs" to return to the ring. The order in which the dogs stand in the final line up will be the reverse of the order in which the classes were judged. In other words, the Open dog will head the line, with the Puppy at the far end. You may be asked to move again, individually, as a whole class, or maybe both. The judge is now looking for the best male, who will receive the Challenge Certificate (CC), followed by the Reserve Challenge Certificate (RCC), and then the Best Puppy. Be on hand if you have won a second in a class as you may be called back to the ring if the dog who won that class is awarded the CC. The three main winners will do a lap of honour, and then leave the ring. The whole procedure is started again for the bitch classes, ending with a CC, RCC and Best Puppy winner. To end the day the two CC winners compete against each other for the Best of Breed (BOB) and the two puppies compete for the Best Puppy in Breed. The BOB will then go forward to represent the breed in the group judging. If a group win is attained (only four group places are given) then you will represent the Group on the final day of the show to compete for the Best in Show title. Not all championship shows have a Best Puppy in Show, if not there will be no group to go forward to and there will be no further competition for you that day.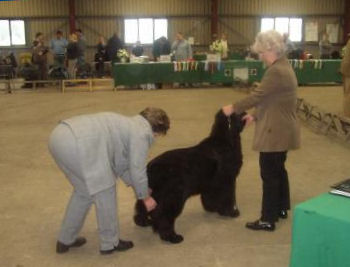 NEWFOUNDLAND CLUB SHOWS
These shows are specifically for the Newfoundland and give you the opportunity to see lots of Newfies all together under one roof. The clubs run two types of shows; Championship and Open Shows with a few differences to an all-breeds show - namely, colour specific classes, Brace (two dogs one handler) and Veteran classes. Depending on the size of the show and number of entrants one judge will be appointed to judge both sexes or two judges are appointed, one for the dogs and one for the bitches. Where there are two judges Clubs have the choice of appointing a referee to decide on the overall winners should the two judges disagree, or appoint a BIS judge from the outset to decide on all the eventual winners. They will each judge their allocated sex as per a Champ show, awarding a best dog/bitch and a reserve and a best puppy. Then the judges will jointly decide on the Best in Show, the Reserve Best in Show and the Best Puppy in Show. There will also be a Best Black, a Best Brown, and a Best White & Black (Landseer).
Showing can be immense fun if you have the correct attitude!
Try not to be too disheartened if your dog isn't awarded as you'd hoped. It is best to go with the attitude, "if we are placed or win anything it's a bonus, but we're here to enjoy the day". You'll see lots of beautiful dogs, pick up grooming or trimming tips and meet new like-minded people. If you get the bug the chances are you will be seeing the same faces week in, week out over the summer months. You'll make new friends too, but most of all, have fun. After all ... YOU WILL BE TAKING THE BEST DOG HOME WITH YOU AT THE END OF THE DAY!
If you need any help of advice please email show@southernnewfoundlandclub.co.uk
Author: Jan Groves