SIXTH SOUTHERN NEWFOUNDLAND CLUB OPEN SHOW
West Hall, Kennel Club Building, Stoneleigh, Warwickshire
29 November 2014
Show Manager: Jackie Bagnall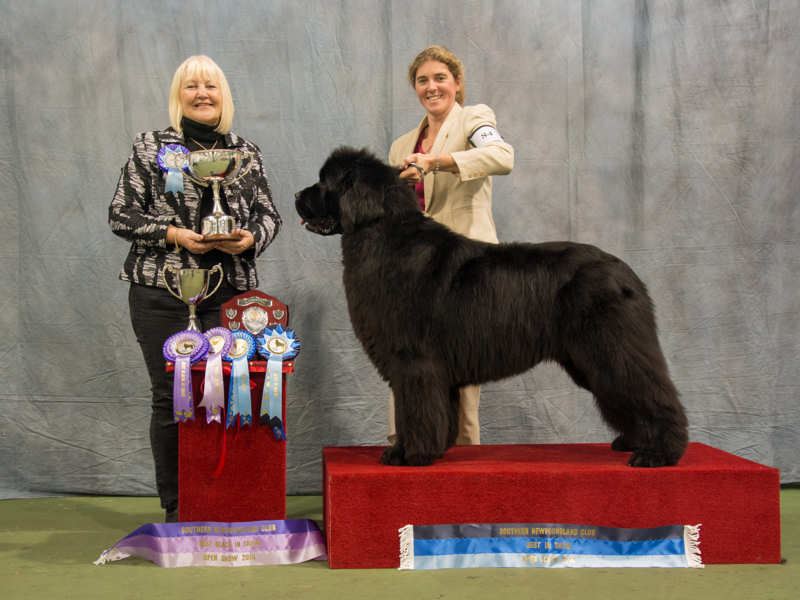 Best In Show
Caroline Morrell's
Ch. Morrelham Highland Park, JW ShCM
with dog judge Mrs. Debbie Stansbury (Woodbriar)
Show Manager's Report
"This was my first year as show manager of the SNC Open Show and the Club's sixth show and what an entry we had - 115 dogs, making 132 entries. To say I was pleased was an understatement! Luckily we had two judges officiating this year.
Unfortunately, due to unforeseen circumstances, our bitch judge, Marion Sargent did not arrive in time to place her 70 entries so our Special Awards Champions Class judge, Joe Smith ably stood in as her replacement and he, along with Debbie Stansbury who judged tghe dogs did a sterling job of placing this fantastic entry. Luckily Marion did arrive later in the morning, so she judged the Special Awards Champions Class in Joe's place.
Cheryl Payne officiated as our Junior Handling judge and as we have come to expect Nicole Owles did not let her down with another exceptional display of handling. Well done Nicole.
I also have to give a HUGE thank you to all of the SNC committee and helpers who worked their socks off all day on the Saturday and to those who came to help set up on the Friday afternoon. Special thanks to our ring stewards for doing such a great job and giving their time so freely to help out on the day and also to Paul Dodd for all of the wonderful photos. I could never have achieved any of this without your help and it was greatly appreciated.
Finally a massive well done to all our winners and to everyone who entered their lovely dogs into the show and hope to see you all again next year. "
Jackie Bagnall
Dogs

Judged by Mrs. Debbie Stansbury (Woodbriar)

My observations were that the breed has an issue with front construction and often in the rear movement too. I noted the White & Blacks at the show today, seemed to have sounder front and rear movement than the other colours. I found, on the whole, heads to be beautiful, in proportion and having dark eyes, lay back of shoulder to be good with some just a little short in upper arm and most with good bone.

I love this breed and to see them stacked is a joy to behold and then to see them moving in profile freely and covering ground - Wow! Presentation was excellent and temperaments were exemplary as you would expect.

I thank the exhibitors for giving me the chance to handle their beautiful dogs and for taking my decisions with good grace. My thanks to the Officers and Committee, my Stewards and to the exhibitors for making my visit one of the best ever and one I won't forget in a hurry.

Veteran Dog (3 entries / 2 absent)
1st

BENKERIN SWEET VICTORY

Lovely old chap in good condition, just a fraction longer in muzzle and loin, fraction wider in front and happy enough but not too enthusiastic on the move today.

"Best Veteran Dog"

Minor Puppy Dog (4 entries / 3 absent)
1st

SANDBEARS MORE THAN CLASS

7 month very raw puppy, just a little narrow all through at this stage in his development, balanced head and good lay back of shoulder but he has time on his side.

Puppy Dog (8 entries / 3 absent)
1st

ZENTAUR I WILL WAIT

Both 1 and 2 in this class were hard to split, both having typical heads, being balanced and well constructed, 1 being a fraction more together at this age. An impressive male, moving freely and covering ground in profile.

"Best Puppy Dog"

2nd

BARANOVA OLEG OF SHERIDEL

Another good male as above but just not quite so mature at this stage of development.

3rd

INKOMO ICICLE

Res

LITTLE BEARS REPEAT AFTER ME SANDBEARS

VHC

JOALTA STORM WARNING

Junior Dog (5 entries / 0 absent)
1st

MERRYBEAR FRERE JACQUES

Again 1 and 2 hard to split - both being well constructed, having balanced typical heads, balanced body proportions, good bone and both freely moving, 1 having a better coat today as the deciding factor here. Seriously considered him for Top Awards today.

2nd

MERRYBEAR FREDDIE MERCURY

Lost out here on lack of coat - different matter another day.

3rd

SAKARIBEAR SOLENT TIDE

Res

NEW ANGELS MY GUY AT MILLTHORPE, JW

VHC

ZENTAUR NOT WITH HASTE

Graduate Dog (6 entries / 2 absent)
1st

ZENTAUR I WILL WAIT

As Puppy Dog

2nd

BLACKTIDE IN THE NAME OF LOVE, ShCM

Another good male, with a good head and bone, balanced body proportions, moving freely just a fraction out at elbow.

3rd

MERRYBEAR EDWARDO

Res

NEWFOUNDLOVE NEW EDITION AT SHADOWRISE

Post Graduate Dog (10 entries / 2+1 absent)
1st

DARKPEAK RUMOUR HAS IT AT LARKHARBOUR

Impressive brown male, typical head, good bone and I liked his overall balance, correct angles front and rear and moving freely.

2nd

TALLISBAY TALKING ITALIAN

Another free moving male just a fraction narrow all through.

3rd

COMFORTCOVE LAGO ANGELO TO STORMCOVE

Res

WUZIBEARS HELTER SKELTER

VHC

BROOKLYNBEAR NOTORIOUS

Limit Dog (4 entries / 1 absent)
1st

SANDBEARS BETTER THAN EVER, JW

Upstanding male with balanced body proportions. Muzzle and skull of correct proportions having a good construction, moving with verve and covering the ground in profile.

"Reserve Best Dog"

2nd

TALLISBAY THAT'S MY BOY WITH ACAVISTE, JW ShCM

I liked this male, also being balanced with a good head of correct proportions but not quite as good in front as one.

3rd

CHERAPIPPIN XCALAPER

Open Dog (3 entries / 1 absent)
1st

Ch. BEARHUGS FALCON

Impressive male with a head of good proportions, well constructed, having a deep long ribcage and moving freely in profile just a little untidy coming and going today.

2nd

CHATEAUNEWF TRUMAN CAPOTE ShCM

A smaller male who lost out in front movement. Attractive looking male on the stack just short stepping in front.

Special Open - Black Dog (3 entries / 1 absent)
1st

Ch. MORRELHAM HIGHLAND PARK, JW ShCM

I thought this 3 year old quality male was absolutely balanced with nothing over or under done. He has a beautiful head and dark eye, he has a good lay back of shoulder with a good length and return of upper arm with a good length of well boned front legs, deep long ribcage and strong loin. His good construction enabled him to move soundly, freely, holding his backline on the move and covering ground in profile. Presented to perfection.

"Best Black Dog" "Best Dog" "Best In Show"

2nd

NEWFOUNDLOVE MY GUY AT SHADOWRISE, ShCM

A good looking male on the stack, good head proportions with dark eye just failed on movement to 1.

Special Open - Brown Dog (5 entries / 1 absent)
1st

DARKPEAK RUMOUR HAS IT AT LARKHARBOUR

As Post Graduate Dog

"Best Brown Dog" "Best Brown In Show"

2nd

SHALOWSEAS FIRECRACKER

Heavier male in good condition, lovely head, good body shape but not quite so smooth on the move as 1.

3rd

VODAHOND INNUENDO

Res

INKOMO ICICLE

Special Open - White & Black Dog (2 entries / 0 absent)
1st

DIRTY DANCING DE L'ILIADE ET L'ODYSSEE

I liked this 6 year old male who was sounder both coming and going than most. His overall good construction and sound movement won.

"Best White & Black Dog"

2nd

SAFEHARBOUR KELLERMANS AT FURNDONBAY

3 year old male, fraction longer with not such substantial bone and I felt too much black overall. Moved freely in profile.

Bitches

Judged by Mr. Joe Smith (Mowgli)

Veteran Bitch (3 entries / 0 absent)
1st

SHERIDEL ONTARIO

White and black rising nine, still looking good. Feminine head with clear eye giving pleasing expression, stood on good legs and feet, nicely ribbed. Sound rear, she moved with great enthusiasm, still enjoying her showing.

"Best Veteran Bitch" "Best Veteran In Show"

2nd

Ch. DARKPEAK A PERFECT STORM, JW

Another classy mature lady one year younger, presented a super outline standing. Balanced head with strong muzzle and underjaw. Liked her front and rear angles, held her topline on the move, coat in good order.

3rd

Ir. Ch. BLACKTIDE FAIRIE QUEEN, JW

Minor Puppy Bitch (6 entries / 1 absent)
1st

SHINGLEBAY HIGH HOPES

8 months old and all legs at the moment. She had lovely bone and substance, feminine all through. Eyes of good colour but a little loose at this stage, needs to settle on the move, handler did well here.

2nd

SANDBEARS TALK'N TACTICS FOR MORRELHAM

Another of similar age, in profile she presented a good outline. Super neck and topline. Just needs time to develop.

3rd

LARKHARBOUR SILVER CLOUD

Res

KENQUARTZ DISCOVERY AT PAMCO

VHC

LARKHARBOUR SILVER DAWN

Puppy Bitch (8 entries / 2 absent)
1st

BRIDGESTONE GRIP IT N'RIP IT

10 month old white and black, great quality here, super size and bone, great head and expression, eye of correct shape and colour, ears nicely set, strong neck and clean front. Body developing nicely, kept her shape when moving, showing lots of promise here.

"Best Puppy Bitch" "Best Puppy In Show"

2nd

ZENTAUR HOW FICKLE MY HEART

Another of ten months. Dark expressive eyes, strong muzzle and good bite, not as forward as winner but lots to like, she moved well and coat of correct texture.

3rd

BRIDGESTONE GRANDE DUNES AT SQUESTPAWS

Res

BEARSCOVE MOULIN ROUGE

VHC

LARKHARBOUR SILVER CLOUD

Junior Bitch (6 entries / 0 absent)
1st

FURNDONBAY RUN THE WORLD

Classy black just days out of puppy so giving a lot away age wise. She held her own. Balanced head with dark eye giving lovely expression, strong neck and clean front. Shoulder nicely placed with good length of uppper arm. Strong bone with correct pasterns and good feet. Excellent croup and tailset. One for the future.

2nd

NEW ANGELS MILLION DOLLAR BABY

14 months and much more advanced than winner. She has a super profile standing, eye shape correct but would like a shade darker. Excellent body proportions. She has super overall balance and exudes breed type.

3rd

SAKARIBEAR SENDING A KISS TO TALLISBAY

Res

MILEOAK CREME BRULEE

VHC

SHEENMARIE CLARENVILLE

Graduate Bitch (6 entries / 0 absent)
1st

ACARA QUANTUM OF SHERIDEL

2 year old black. Lots of quality here. Excellent head with good balance between skull and muzzle. Eye of good shape and colour, tight rims. Clean front, elbows tucked neatly in. Good depth of brisket. Nicely ribbed with strong loin. Well muscled rear. She moved so soundly, producing an easy effortless gait.

2nd

BRIDGESTONE GRIP IT N'RIP IT

3rd

TEDDYHAWKS SUPERSTITIOUS

Res

NEW ANGELS MILLION DOLLAR BABY

VHC

MILEOAK CREME BRULEE

Post Graduate Bitch (13 entries / 3 absent)
1st

MERRYBEAR EUPHORIA AT MILLTHORPE, JW

18 month old black bitch, so well proportioned all through. Just needs time to fill her frame, feminine head, strong muzzle and good mouth. She has a good neck and clean front, good depth of chest. Correct topline and tail set. Sound on the move.

2nd

MAYOSS TUMBLING DICE

22 months old. Liked her overall balance and proportions. She has excellent bone, strong legs and feet. Would like just a little more strength of muzzle to balance out the head. She stepped out well and was in good coat of correct texture.

3rd

MILEOAK MON AMOUR

Res

BLACKTIDE DEEP IN YOUR HEART

VHC

SHINGLEBAY INNAMORATA, ShCM

Limit Bitch (8 entries / 0 absent)
1st

TEDDYHAWKS PAIGE TURNER

3 year old black. Feminine head with strong muzzle and good mouth. Classic outline in stance. Good depth of brisket. Well ribbed and with strong loin, correct rear angulation with good width of upper thigh. She moved soundly, although in stance at times her handler lets her drop her topline.

"Reserve Best Bitch"

2nd

MILEOAK SHERRY BABY

2 year old black with lots to like, looked good standing but threw it away on the move. Very good breed type overall with correct body proportions, just needs to tighten all through movement wise.

3rd

BEARHUGS ANYA

Res

KALIBAH MISTLETOE KISSES FOR COMFORTCOVE

VHC

MAYOSS NATURAL MAGIC AT WENSUMBEARS

Open Bitch (8 entries / 3 absent)
1st

Ch. SHERIDEL ACARA ACADIA

4 year old black. Such quality and breed type here. Great head type with super expression. Muzzle in balance with skull. Good mouth and clean lip. Great front assembly. Excellent bone, good depth through the body with strong loin. Strong backend, good rear drive on the move.

2nd

Ch. DARKPEAK FALLEN ANGEL

5 year old black of similar type to winner. Another who impressed for balance and overall breed type. She moved and showed well but preferred the expression of the winner.

3rd

SANDBEARS SIGNATURE STRIDE AT KJALARNES

Res

ACARA MISS BRASSIBEAR OF SHINGLEBAY, ShCM

VHC

VODAHOND CARRIE ANN, ShCM

Special Open - Black Bitch (4 entries / 1 absent)
1st

Ch. SWANPOOL TI AMO PASTICCINO, JW

5 year old black and just my cup of tea. This is my idea of what a top quality Newfoundland should be. She has the classical outline of the breed, superb feminine head with lovely expression. Strong neck with slight arch into the withers, correct topline and tailset. Good front assembly. Strong bone with correct pasterns and feet. Good depth and width of chest correct rib and loin, sound rear with well muscled upper thigh. She showed so well and moved soundly I loved her. Pleased to see her win the Special Award Champions class under Marion Sargeant. I seem to remember admiring another of this exhibitors dogs Franki Dettori?

"Best Black Bitch" "Best Bitch" "Reserve Best In Show"

2nd

BLACKTIDE POKER FACE, JW

Another 5 year old black, who also presented an outline so typical of the breed. Balanced head with dark eye and good mouth. Ears well placed. Good bone and substance yet still essentially feminine.

3rd

SHEENMARIE HOLLY BERRY

Special Open - Brown Bitch (3 entries / 0 absent)
1st

VODAHOND DELTA LADY

3 year old. Liked her head and expression, kind eye and good bite. Coat in good order and of correct texture. Energetic mover and nicely handled. Would like better feet.

"Best Brown Bitch"

2nd

ZENTAUR I GAVE YOU ALL

3 year old, super temperament and with lovely bone. Would like tighter eyes and for better balance shorter through the coupling as she looks a little long.

3rd

SHEENMARIE CLARENVILLE

Special Open - White & Black Bitch (5 entries / 2 absent)
1st

BRIDGESTONE GRIP IT N'RIP IT

"Best White & Black Bitch" "Best White & Black In Show"

2nd

SHERIDEL SASQUAHANNA

4 year old. Liked her size and balance. She has a balanced headpiece with dark expressive eyes. Straight front, good bone and correct pasterns and feet. Deep chest with correct rib. Sound rear moved with enthusiasm. Shown in wonderful bloom.

3rd

MILEOAK CREME BRULEE
Special Award
Judged by Mrs. Marion Sargent (Tegwani)
Champion (Dog or Bitch) (8 entries / 3 absent)

My thanks to the exhibitors for sportingly accepting the swap round of judges and allowing me to get my hands on the Champion Class. I was like a kid in a candy store. All Champions, and all lovely to go over.

1st

Ch. SWANPOOL TI AMO PASTICCINO, JW

4 yr old black bitch, lovely in profile, well balanced, lovely head with good shaped eye, just slightly light for preference but this didn't deter from expression, good short muzzle, broad skull, strong neck, good depth of chest, correct angles front and rear, good ribbing and strong loin. Thought this girl held her topline well, strong rear, with good turn of stifle, good sized webbed feet, moved out so well in all directions.

2nd

Ch. SHERIDEL ACARA ACADIA

Another 4 year old black bitch, was really splitting hairs between these two, as both are such worthy Champions, again, lovely profile, so well balanced, lovely head with good dark eye, nice small ears which were well set on abroad skull. Strong neck, going into well angulated shoulders, good strong front and rear, good depth of chest, good ribbing and strong loin, topline wasn't as good as 1st, well angulated rear and stifle, good coat, although this bitch moved well, today I preferred the movement of 1st.

3rd

Ch. MORRELHAM HIGHLAND PARK, JW ShCM

Again 4yr old black, the only boy in the class and one I have judged before. An upstanding male, who is so worthy of his title, but just had to settle for 3rd behind the two girls. Lovely head and expression, good eye and ear set, good short muzzle, nice angles front and rear and stood four square, good coat and good feet. Good coat, today, I just preferred the outline and the movement of the girls.

Res

Ch. DARKPEAK FALLEN ANGEL

VHC

Ch. DARKPEAK A PERFECT STORM, JW