SNC WATER TESTS SECTIONS A - E
Sunday 16 August 2009 - Grangewaters, South Ockendon, Essex
Test Manager - Tina Roberts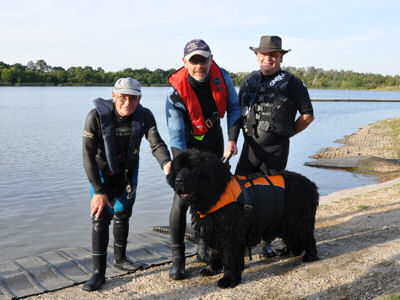 Well done Maisie, a fabulous Section E Pass at 10.5 years of age!
Pictured above - Graham Hill and Honeybears Funny Girl (Maisie) with judges David Grove (left) and Kevin Mercer (right)
Firstly I would like to thank everyone for their help and support on this my first Test. I would like to think that everything ran smoothly, especially considering the pleasingly large number of entries. A big "thank you" to all of the Judges, Stewards and helpers with a special mention to Pauline who did a wonderful job collating all of the results and producing the Pass Certificates.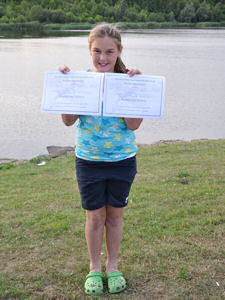 Robyn Johnson - Junior Handler of the day with two test passes
The weather on the day was great, slightly overcast to start but brightening up quickly so we had a warm and sunny day to enjoy our dogs and each others company. The number of passes was very pleasing with young and old newfies alike having great success.
On a personal note, the highlight of the day was Jan & Graham's Maisie who passed her Section E for the first time at the grand old age of ten and a half. She thoroughly deserved the huge cheer that she got from the large crowd of spectators when the Judges said "That's a Pass"! With five other passes from Muddy Paws dogs, our club had a very good day in the water and a thoroughly enjoyable time as hosts - I hope this makes Don Hicks very proud of his group.
Thanks again to everyone and I hope we shall see you all again soon.
Tina Roberts